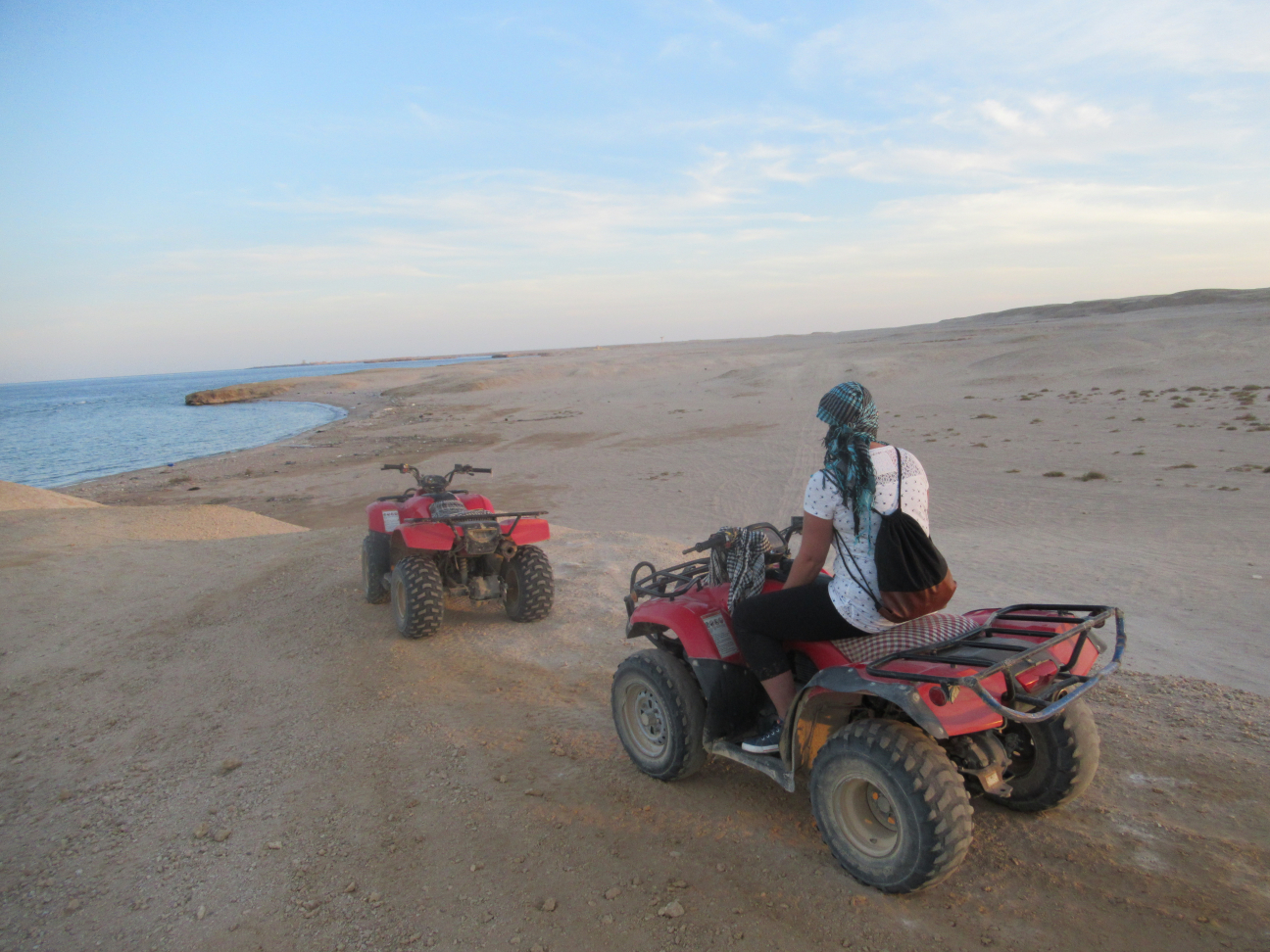 ---
You have already driven a quad bike several times, but would like to experience something new? How about a quad tour along the sea? Between Safaga and the beautiful bay Makadi Bay you can experience a very special adventure with our team.
Trip description
You will be picked up by your personal driver directly at your booked hotel and will be taken directly to the beautiful Makadi Bay. On arrival your personal guide will welcome you for this excursion and help you with the preparations. This includes handing out the free Arafat scarf for your face, putting on this scarf, stowing your luggage and explaining how to operate the quad bike. Do you have any further questions? No? Then you're good to go. First you drive a little bit along the road and then you turn cross-country into the desert. Here you can really accelerate. Let our guide know if you are an experienced driver and would like to drive faster.
You drive up and down the sand dunes with the beautiful scenery of the sea on one side and the desert on the other. In between you stop at a supposed mountain, which you can also climb. Only on closer inspection you will notice that this is a huge coral formation. Enjoy the great view and the absolute silence in the desert. And already it goes on rapidly. We reach the highlight of this excursion. The view down over the cliffs will take your breath away. Are you wearing good shoes, are you sporty and adventurous? Then you should descend with us to the sea. A unique experience. Our guide will be happy to help you with the descent. Do you like snorkeling?
Then let us know at the beginning, we will plan it accordingly and it will be very interesting for you. Just take your snorkeling equipment with you and enjoy this cool refreshment, especially in summer Now we go back to the quad station together. Give a lot of gas and let the wind whistle around your nose. Also the way back leads again a little bit along the road and your driver already expects you to bring you back to your hotel.
Included services:
Private driver
private guide
2 to 3 hours quad tour only for the persons booked
Visit of a coral formation and descent to the cliff
---