Who we are
We are a German-Egyptian team and offer high quality private tours at the Red Sea in Egypt. We are specialized in the places El Gouna, Hurgahda, Sahl Hasheesh, Makadi Bay, Soma Bay, Safaga, El Quseir and Marsa Alam. Osama Samir built this team and we are one big family. We would like to give this feeling to our guests as well.
Our excursions are all private and individually arranged according to your wishes. For us the satisfaction of our guests is our first priority. With us you will not find any forced sales events and we visit the sights in such a way that you will not get caught in the crowds of other visitors.
We attach great importance to show you the real Egyptian life, far away from mass tourism. Our guiding principle is quality instead of quantity. The welfare of nature and the animal world is very close to our heart. No animals are forced to do anything in any way. On our excursions we make sure that nature is not damaged.
Come as a stranger and leave as a friend. That is our guiding principle.
---
Our Offices
Hurghada: Hotel Palma Resort
Soma Bay: Viva Blue Resort
Safaga: Coral Sun Beach Resort
---
Guests with a handicap
Your wishes are a matter of the heart for us. We don't have any. No matter which handicap you have, we try to realize everything suitable for you.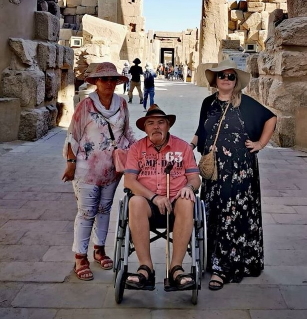 Boat trips:
If required, we can bring you on the boat in a wheelchair, or our friendly staff will be happy to carry you on board.
City trips:
As we guarantee individual personal trips, you decide the pace yourself. In Cairo, for example, our driver will drive you up to the pyramids so that you don't have to cover long distances.
Quad tours:
Even if you can't drive yourself, there is the possibility to ride with either your companion or the guide and still enjoy the fun of driving. Since the human being and his needs are in the foreground, you determine the speed yourself.
If you have any questions, please do not hesitate to contact us. We will gladly take care of you and your needs.
---
Vehicles and Security
Our air-conditioned vehicles are all as good as new and well maintained. Of course, the vehicles are cleaned after every excursion. Furthermore, oil changes and maintenance are carried out regularly. All our vehicles are state of the art with various upgrades to provide you with the necessary comfort. Safety is our top priority. For this reason we also offer child seats with German safety standards. So even the smallest guests can feel big with us. Our vehicles are all registered and you are therefore insured on all our tours.