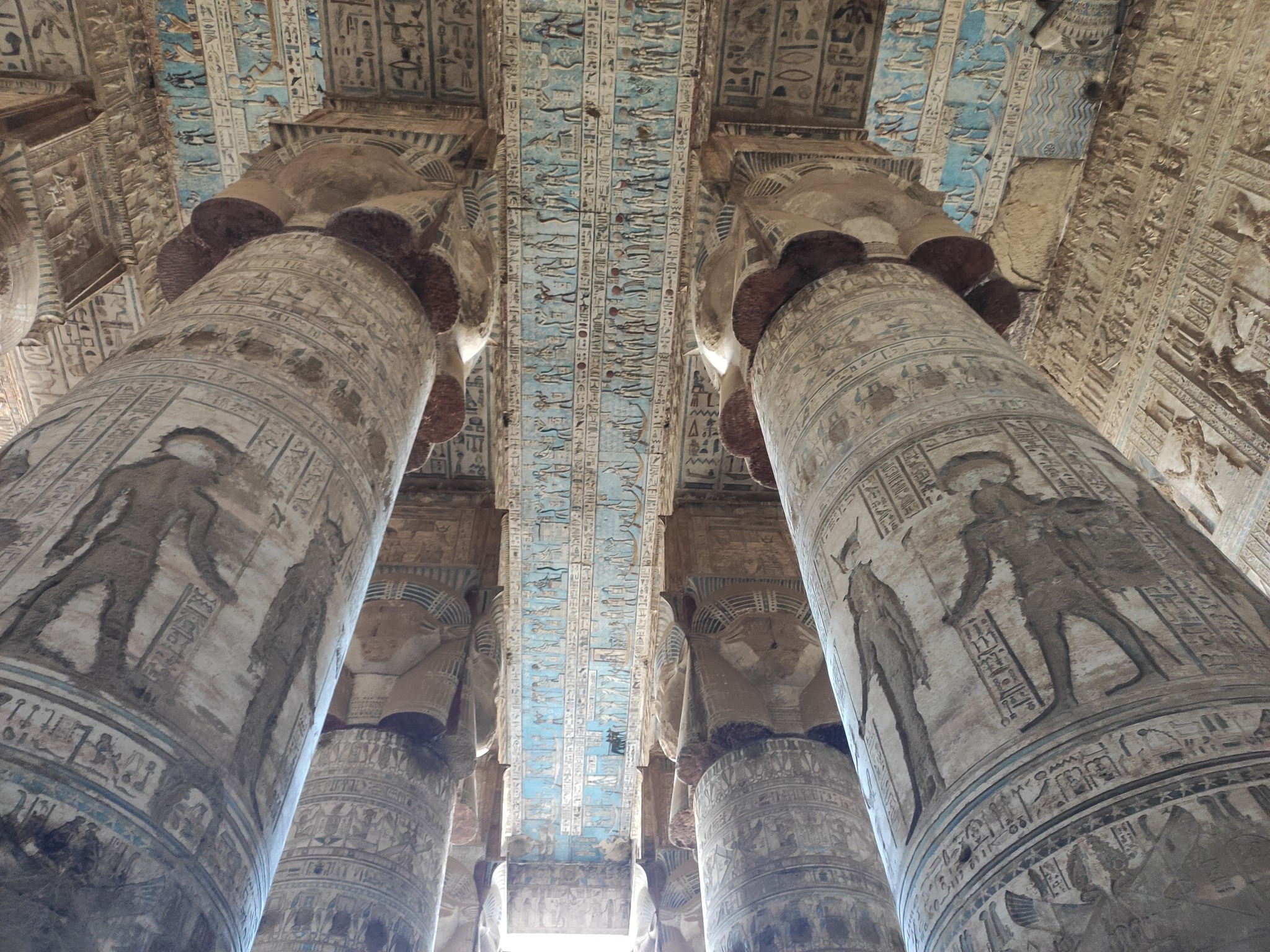 ---
Dendera, the ancient provincial capital is located about 55 km north of Luxor in Upper Egypt. Abydos is located about 160 km north of Luxor and is one of the most fascinating places in Egypt. Walk with us on the paths of gods, pharaohs and kings and visit two of the most important temple complexes on the Nile.
Excursion description
Our driver will pick you up directly at your booked hotel on the Red Sea and take you to Abydos, where your journey starts with your personal, english-speaking Egyptologist.
The impressive temple of King Sethos was for thousands of years the main cultural center for the god Osiris, who was dismembered by his own brother and scattered to the winds. Listen to the exciting stories of the Egyptologist and find out what significance Isis played in history.
The well preserved reliefs and colors of this temple are among the most beautiful in Egypt.
At the back of the Abydos temple you will find the Osireion. A small temple complex built in honor of the ancient Egyptian god Osiris.
The mock tomb is sunk so deep into the earth that today it is reached by groundwater. Afterwards we continue to Dendera and enjoy a tasty lunch in an Egyptian restaurant.
Now you will visit the Dendera Temple with your guide. The temple was built from 125 BC to 60 AD and dates back to the Greco-Roman period in honor of the goddess Hathor.
The temple complex was buried underground until the 19th century and is therefore very well preserved. Here the visitor can enter areas that are closed in many other temple complexes. Such as the roof or the crypts.
The formerly soot-blackened ceiling has been extensively cleaned and is the absolute highlight of this temple. In all its colorful splendor it shows, among other things, the sky goddess Nut and the Egyptian calendar including the signs of the zodiac.
Come with us on a very special journey of discovery of time.
Included services:
Private driver
German speaking guide
Rich lunch
Entrance fees for the temple complex in Abydos and the Dendera Temple
---
Optional
As an option, this excursion can also be booked with an overnight stay. You will then be accommodated in a hotel in Luxor, which gives you a view of the Nile. Besides the possibility to dive into the nightlife of Luxor, you can now also explore the sights of Luxor.
Optional services:
Hotel room
Dinner, breakfast and lunch the next day
Drinks during the journey
Luxor Temple, Memnon Colossi, Hatshepsut Temple, Valley of the Kings or Queens
---